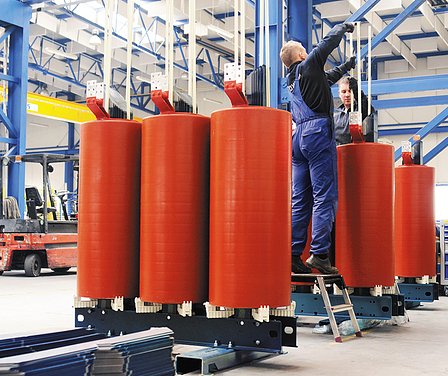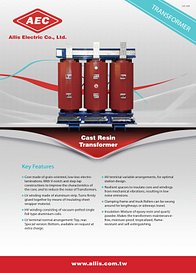 For the demand of safety for the power distribution equipment's, dry type transformer with fire resistant, non-polluting and humidity resistant features are often the right choice. AEC's cast resin transformer provides the best and safest service to all kinds of power distribution system applications.
AEC's transformers provide powerdistribution to industrial, commercial,residential markets safelyand effectively.
For the high demands for safety for powerdistribution equipment, dry typetransformer with fire resistant, non-pollutingand humidity resistant designsare required. AEC's cast resintransformer provides high quality and meet all safety requirements required tofor all power distribution system applications.
Allis Electric is an experiencedmanufacturer of switchgear and has beenspecializing in transmission &distribution equipment, UPS andswitching mode rectifiers for over 40 years.Their products are sold to many countriesaround the world. They offer high quality design solutions to meet high demands of their client's applications.
• Oil-immersed Transformer, Up to 36kV, 25000kVA• Cast Resin Transformer, Up to 36kV, 15,000 kVA• Dry type Transformer, Up to 6.6kV, 2,000kVA• Reactor, Voltage up to 36kVTypes;Hollow reactorCore reactor Shunt reactor for CapacitorStarting reactor for motor startingCurrent limited reactorDistribution reactor
Key Features
•Core made of grain-oriented, low-loss electro-laminations. With V-notch and step-lap constructions to improve the characteristics of the core, and to reduce the noise of Transformers.
•LV winding made of aluminum strip. Turns firmly glued together by means of insulating sheet wrapper material.
•HV winding consisting of vacuum-potted single foil-type aluminum coils.
•LV terminal normal arrangement: Top, rear. Special version: Bottom, available on request at extra charge.
•HV terminal variable arrangements, for optimal station design.
•Resilient spacers to insulate core and windings from mechanical vibrations, resulting in low noise emissions.
•Clamping frame and truck Rollers can be swung around for lengthways or sideways travel.
•Insulation: Mixture of epoxy resin and quartz powder. Makes the transformers maintenance free, moisture proof, tropicalized, flame-resistant and self-extinguishing.