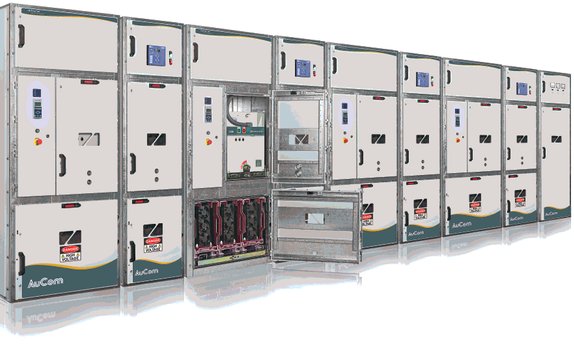 A global player in the soft start market for The Last 38 Years, Aucom has a dedicated devision for their medium voltage solutions.The products are of the highest quality and are at the forefront of modern design. They are accepted around the world and their expansive network of offices ensures they provide the very highest level of service andsupport to their customer base. Aucom provide 24 Hr support and a promise that an engineer can be on site anywhere in the world, in less than a day!
Motor Voltage : 2.3kV , 3.3kV , 4.16kV , 5kV , 6.6kV , 7.2kV , 10kV , 11kV , 13.8kV

Test Voltage : 7.2kV , 12kV , 15kV

Control Voltage : 120VAC / 230VAC

Frequency 45Hz - 66Hz (Auto trigger)

Start Current 50A...6000A

Motor Current (Max) 20A...2000A

Starting Time (Max) 1 Sec...30 Sec

Ambient Temp 0-50 C (80 Deg C)

Max Altitude 1000 M Above Sea Level (3000M De-rated)

IP Rating - IP32 Standard - IP56 Special POA

Full Range of Factory testing available.